Thesis defence by Alessandra Carion
Thesis defence by Alessandra Carion
2020-09-09T15:00:00+02:00
2020-09-09T18:00:00+02:00
When

Sep 09, 2020

from 03:00 PM to 06:00 PM

(Europe/Brussels / UTC200)

Where

Auditoire L12

Add event to calendar

iCal

Title:
Characterization of the brain molecular bases of personalities and assessment of their developmental plasticity in response to environmental stressors using an emerging model fish species, the mangrove rivulus,
Kryptolebias marmoratus
It seems evident that human behaviour and personality is influenced by external circumstances. But fish?? Above all, do they have a personality?? Those who have already listened to a presentation of Alessandra know that YES, THEY DO. And it is impacted by environmental stressors! During her thesis, she assessed the molecular bases of personality traits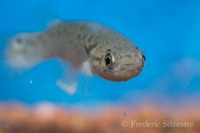 (aggressiveness and boldness) and their developmental plasticity. Due to their special mode of reproduction, the mangrove rivulus fish is an excellent model to identify the genetic and environmental sources of such phenotypic variability.

More information here.
Alessandra conducted her thesis on developmental plasticity of behavioural traits of the mangrove rivulus under the supervision of Frédéric Silvestre (Biology). Remember her award-winning presentation at the ILEE Research Day last year? Don't miss this defence, which will be public!