ILEE Reseach Day 2019
After the kick-off meeting of the Institute of Life, Earth and Environment last year, ILEE organised now a conference especially for young researchers! A stimulating meeting that included the first general assembly of ILEE members.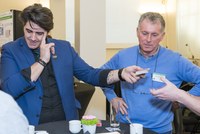 A broad mixture of topics, short teasers of 5 minutes to quickly introduce a poster and classic presentations shaped the programme of the day. Entertainement was guaranteed by vivid discussions during the pauses and a bit of magic and mentalism performed by Benjamin Ghislain!
The General Annual Meeting completed the day with a
REPORT
on achievements and activities in 2018 and an outlook for 2019!
And, not to forget, we had two winners of the day:

Alessandra Carion for her inspiring presentation on the personality of fish and Augustin Dekoninck who taught us about the undeniable importance of MANGANESE!
Find here either the full presentations or the corresponding abstracts:

Presentations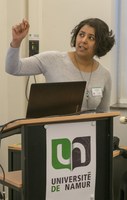 9h10 - Life4Fish: Impact of hydraulic power plants on migrating fish – Imen Ben Ammar (Biology)
9h20 - Adaptative Reuse of Rural Monastic Sites in Belgium in the XIXth Century and in the First Half of the XXth Century – Mathilde Macaux (Art History)
9h30 - Manganese for our daily needs: a metallogenesis approach to understand supergene ores – Augustin Dekoninck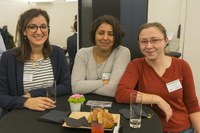 (Geology)
9h40 - Limited effects of pigment richness on phytoplankton communities – Jürg Spaak (Biology)
10h00 - The impact of multiple environmental stressors on phytoplankton communities – Mark Holmes (Biology)

11h00 - Personality traits in fish - Focus on the Mangrove killifish – Alessandra Carion (Biology)
11h20 - (U-Th)/He dating of goethite from the gossan of Moroccan supergene deposits – Michèle Verhaert (Geology)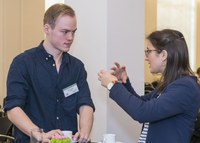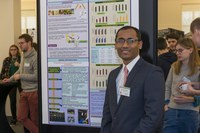 11h40 - Effects of different monophosphates supplementation on growth, feed utilization, nutrient digestibility, mineral retention and metalo-enzyme genes expression of juvenile rainbow trout – Hossain Sakhawat (Biology)
11h50 - The NOMAD instrument on-board ExoMars Trace Gas Orbiter – Loïc Trompet (Physics)
12h00 - Chronic effects of insecticides used in cotton production on fish (Clarias gariepinus) – Alexis Houndji (Biology)
12h10 - ALTER-Net, a network for biodiversity and ecosystem research: opportunities for ILEE members – Nicolas Dendoncker (Geography)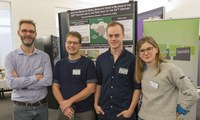 14h00 - Assessing the impact of pharmaceutical compounds on freshwater ecosystemst – Mahaut Beghin (Biology)
14h20 - Barometers and Modernity: The Observatorio Meteorológico de Manila and the Rise and Growth of Meteorology in the Philippines, 1865-1941 – Kerby Alvarez (History-PolleN)
14h40 - Mobility and Career Development via H2020 Sklodowska- Curie Actions – Christelle Saout (ADRE)
14h50 - International mobility programmes for researchers at UNamur – Henrich Brunke (International Relations)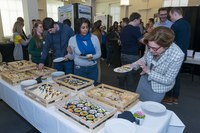 Thanks to all for your participation, contribution, happy smiles and pleasant conversations!