ILEE Lunch Seminar
2022-03-22T12:45:00+01:00
2022-03-22T14:00:00+01:00
When

Mar 22, 2022

from 12:45 PM to 02:00 PM

(Europe/Brussels / UTC100)

Where

B33, Biology Building, 3rd floor

Add event to calendar

iCal
Speakers
ILEE is pleased to welcome Manu Harchies & Yves Marenne from the Institut de Conseil et d'Étude en Dévélopment
Durable (ICEDD) for an ILEE seminar. For three years now, Manu participates in the organisation of bachelor courses at UNamur (écologie appliquée). They will introduce their projects and activities with regard to ILEE's objectives, such as:
Climate adaptation and resilience, ecological networks and ecosystem services
Projections and foresight with the TIMES model
Research project on energy flexibility
Circular economy

Please order your sandwich before Monday 21st, 18h!!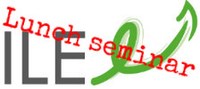 carolin.mayer@unamur.be